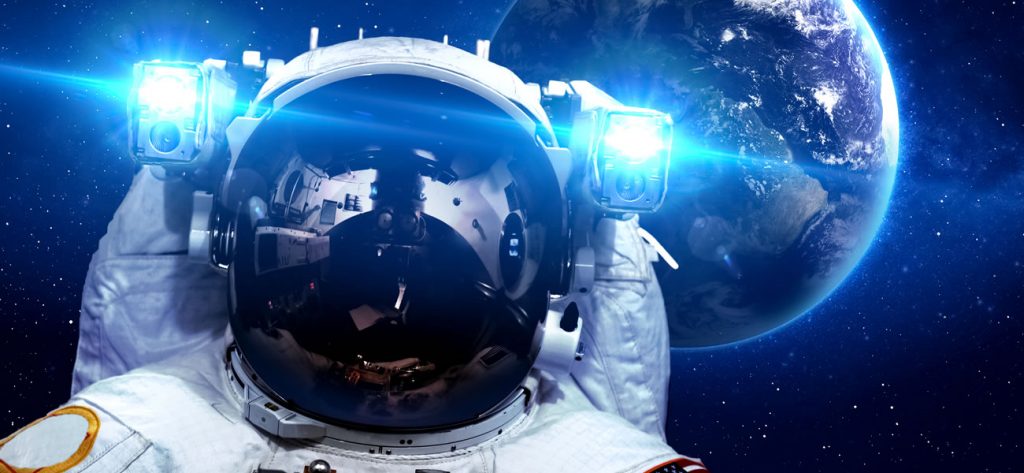 [Will Publish April 26, 2018]
Accion Systems – Accion is pioneering scalable electric propulsion technology and has created a new ion engine. The company is headquartered in Boston, MA.
Ad Astra Rocket Company – Ad Astra is dedicated to the development of advanced plasma rocket propulsion technology. Retired astronaut Dr. Franklin Chang Díaz is Ad Astra's President and CEO. His concept of the Variable Specific Impulse Magnetoplasma Rocket (VASIMR) is intended to achieve several advantages over current chemical rocket designs, including lunar cargo transport, in-space refueling, and ultra-high speeds for distant space missions. The company is located in  Webster, TX near NASA's Johnson Space Center and was incorporated in 2005.
Armadillo Aerospace – Armadillo has performed over two hundred flight tests spread over two dozen different vehicles. They have performed work for NASA and the US Air Force and flown vehicles at every X-Prize Cup event. Founder: John Carmack (co-founder of ID Software). The company is located in Mesquite, Texas and was established in 2000.
Arianespace – A French multinational corporation, Arianspace undertakes the production, operation, and marketing of the Ariane 5 launch vehicle as part of the Ariane program. Two other launch systems are offered by the company: the Soyuz-2 is a medium-lift alternative to the Ariane 5 and the Vega is a lighter alternative.
Alter Technology – Alter provides procurement, engineering, and test services for electrical, electronic / electro-mechanical components, and electronic systems within the space / harsh environment markets including aerospace, security, transport, emergency services, health and safety, and automotive.
Aviospace S.r.l. – Airbus Defense & Space Italian (subsidiary). Aviospace employs 30 highly-qualified professionals who work in direct contact with cutting edge technologies and international aerospace programs in the European and global space industry.
AZUR Space Solar Power GmbH – A European company specializing in the development and production of multi-junction solar cells for space PV and terrestrial CPV applications.
Copenhagen Suborbitals – A non-profit, suborbital space endeavor working towards launching a human being into space. The company has performed (45) engine tests to-date in Copenhagen, Denmark. Established in 2008.
Blue Origin LLC – Develops concepts and technology to support future human spaceflight operations. Among other projects, Blue Origin is developing a sub-orbital space vehicle that will take off and land vertically. Founder: Jeff Bezos (Amazon.com). Headquartered in Kent, Washington with a launch complex in Culberson County, Texas. Incorporated in 2000.
Bigelow Aerospace, Inc. – Bigelow is an American space technology startup company based in North Las Vegas, Nevada that manufactures and develops expandable space station modules. Founder: Robert Bigelow (owner: Budget Suites of America). Locatrd in Las Vegas, Nevada. Established in 1998.
Deep Space Industries – Deep Space is a privately held space company planning to mine asteroids for usable materials and manufacturing in space. Missions to visit nearby asteroids to assess extractable resources including volatiles and metals were originally set to begin in 2015. Founders: Rick Tumlinson, David Gump. Location: McLean, Virginia. Established in 2013.
Fundacion Tecnalia Research & Innovation – Masters of advance technologies in power networks, energy distribution, conversion and storage, sustainable construction, innovation strategies, health, industry and transport, and technological services. Highlights: mecha-tronics, robotics, thermal plasma, innovation tools for business, tissue regeneration, micro and nano manufacturing, advanced technologies for motor rehab, and geron-technology.
Frontier Astronautics LLC – Provides hard-to-get technology and services to the burgeoning entrepreneurial space industry. Specializes in affordable and reliable rocket engines and altitude control systems, as well as custom design and testing services. Location: Chugwater, Wyoming.
IABG – Offers integrated, future-oriented solutions in the sectors of automotive, information and communications, mobility, energy & environment, aeronautics, space, and defense & security.
Image Sat International (ISI) – A private Israel company offering end-to-end geo-spatial solutions from high-resolution satellite earth imagery. Conducts data analysis to gain actionable insights and to better understand and act upon their geo-political, environmental, and economic realities.
Intelsat – A leading provider of satellite services worldwide. For more than 45 years, Intelsat has delivered information and entertainment for leading media and network companies, multinational corporations, internet service providers, and government agencies. Taken private in 2001 and acquired by PanAmSat in 2006. Offices: Luxembourg, Washington DC, Ellenwood, Georgia.
Interorbital Systems – A US aerospace manufacturer active in Mojave, California. Founded in 1996 by Roderick and Randa Milliron, who also co-founded Trans Lunar Research, a non-profit organization. Interorbital plans to develop simple but robust technology to be the lowest-cost launch provider in the commercial space industry. The company is building a launch vehicle for the Google Lunar X Prize Team Synergy Moon and for commercial launches and is a competitor in the Ansari X Prize and America's Space Prize.
Kepler Communications – A private company based in Toronto, Canada that specializes in satellite communications services from a network of small satellites (starting in late 2017).
KinetX Inc. – An engineering, technology, software development, and business consulting firm specializing in aerospace systems with primary expertise in the areas of satellite systems engineering, ground system software development, and space systems operations. Their Space Navigation and Flight Dynamics division provided mission navigation for the Messenger vehicle destined for Mercury and the New Horizons' ten-year journey to Pluto and the Kuiper Belt.
Kongsberg Defense & Aerospace – Provides advanced technological solutions for operations under extreme conditions in the maritime and defense sectors. Supplies remote weapon stations systems and oil and gas technologies.
Made In Space – A US company specializing in the engineering and manufacturing of three-dimensional printers for use in micro-gravity. Headquartered in Mountain View, California, Made In Space's 3D printer (Zero-G Printer) was the first manufacturing device in space. They give researchers the ability to prototype tools and designs in the environment of space with short iteration cycles.
Masten Space – Is a privately held company that designs, builds, tests, and operates reusable launch vehicles, including Vertical Takeoff Vertical Landing (VTVL). Founder: David Masten. Location: Mojave, California. Founded in 2004.
MT Aerospace AG – Develops and produces components for the European launching system ARIANE 5, for satellites, spacecrafts, the Airbus fleet as well as radio telescope constructions. In Augsburg, Mainz, Cagliari (Italy), Santiago de Chile and Kourou (French Guiana), a leader in lightweight construction using metal and composite materials.
NLR – Netherlands Aerospace Centre for identifying, developing, and applying advanced technological knowledge in the area of aerospace.
Phase Four – Specializing in micro satellites and innovation propulsion.
Planetary Resources – An asteroid mining company, whose goal is to establish a new paradigm for resource discovery and utilization that will bring the solar system into humanity's sphere of influence. Founders: Eric Anderson, Peter Diamandis. Location: Bellevue, Washington.
PLDSpace – A Spanish company founded in 2011 in Elche Spain, with the objective of developing low-cost launch vehicles. Currently, the company is developing two models of rockets (Arion 1 and Arion 2) with suborbital and orbital capabilities for the small payloads market. The company targets CubeSats, Micro-g environment, and defense technology payloads. The first commercial launch of the Arion 1 rocket is planned for 2018.
Precision Castparts – Acquired by Berkshire Hathaway in January 2016, PCC is a worldwide, diversified manufacturer of complex metal components and products.  It serves the aerospace, power, and general industrial markets.  PCC is a market leader in manufacturing complex structural investment castings and forged components for aerospace markets, machined airframe components, highly engineered, critical fasteners for aerospace applications, and in the manufacturing airfoil castings for the aerospace and industrial gas turbine markets.  PCC also is a leading producer of titanium and nickel super-alloy melted and mill products for the aerospace, chemical processing, oil and gas, and pollution control industries. It manufactures extruded seamless pipe, fittings, and forgings for power generation and oil and gas applications.
RBC Signals – Specializing in real-time space communications technologies and services for satellite operators.
Rocket Lab – A US aerospace corporation with a New Zealand subsidiary developing lightweight, cost-effective commercial rocket launch services. The Electron Program for small payloads such as CubeSats requires dedicated small launch vehicles. This lightweight launch vehicle is to service the small satellites market with high-frequency launch opportunities and is capable of delivering payloads of 150 kg to a 500 km Sun-synchronous orbit. It will begin in May 2017 with commercial flights occurring later in 2017 at a starting price of US$4.9 million. Major investors including Khosla Ventures, Bessemer Venture Partners, Data Collective, Promus Ventures, Lockheed Martin, and K1W1.
Rocketplane, Ltd. – Is the creator of the Rocketplane XP, a suborbital spacecraft that will launch civilian astronauts more than 330,000 feet above Earth's atmosphere to experience the sensation of weightlessness and an extraordinary view of planet Earth from space. Rocketplane is taking reservations for suborbital flights. Location: Oklahoma City, Oklahoma. Established in 2001.
Rocketstar – Offers a small satellite launch platform and hypersonic consulting.
 RUAG Schweiz AG – RUAG Space  – Swiss company developing and producing a wide range of products for the space industry.
 Ruag Space Finland Oy Ag – Acquired the space business of the Finnish company Patria. Areas of expertise include spacecraft control electronics, electrical power sub-systems, drive electronic units, and related test equipment. Space operations include satellite programs of the European Space Agency (ESA) such as the earth observation satellites Sentinel-2, Earthcare, and Swarm and the Gaia space telescope.
 RUAG Space GmbH – Austrian branch supplying space products and related ground support equipment in the areas of electronics, mechanics, and thermal hardware. Flight-electronics are supplied to European and US satellite programs. Areas of expertise are on-board electronics (digital signal processing), on-board mechanisms (pointing and deployment mechanisms), thermal hardware (multi-layer insulation), and mechanical ground support equipment (containers and trolleys).
 RUAG Space AB – Specializing in highly reliable, on-board satellite equipment including computer systems, antennas and microwave electronics, and adapters and separation systems for space launchers.
Scaled Composites, LLC – An aerospace and specialty composites development company. Scaled has broad experience in air vehicle design, tooling, manufacturing, specialty composite structure design, analysis, fabrication, and developmental flight tests. In 2004, Scaled Composites' SpaceShipOne was the first private craft ever to leave the Earth's atmosphere, making the company the winner of the Ansari X Prize. Founder: Burt Rutan. Location: Mojave, California. Established in 1982.
 Selex Galileo -Selex Galileo Inc. is part of the Finmeccanica Company. From 1 January 2016, all activities previously carried out by Alenia Aermacchi, AgustaWestland and Selex ES as well as the companies OTO Melara and WASS were merged into Finmeccanica. Leveraging a distinctive strength in airborne mission-critical systems for situational awareness, self-protection, and surveillance, Finmeccanica is a global player in the high-tech sectors and a major operator worldwide in the aerospace, defense and security sectors. Headquartered in Italy.
Sener SA – Sener provides aerospace engineering, infrastructure, and transport, power and process and marine engineering internationally. Founded in Spain.
 Sitael S.p.A. – Sitael is the largest, privately-owned space company in Italy. It offers turnkey solutions to customers that facilitate access to space services and applications through its Smart Microsatellite Solutions. Sitael is a holding of Angelo Investments.
Sierra Nevada Corp Space Systems – Products range from spacecraft actuators that power the Mars rovers, to hybrid rocket technologies that powered the first commercial astronaut to space, to micro-satellites controlled by the Internet, to Dream Chaser®, a winged and piloted orbital commercial spacecraft. Acquired by SpaceDev in 2008. President & CFO: Eren Ozmen. Location: Sparks, Nevada.
Space Information Labs – Develops, designs, and integrates technological solutions for global space-based range, operationally responsive space, autonomous flight, and navigation systems. Currently working with DARPA to develop a rapid, inexpensive launch capability for placing small satellites in orbit. Location: Santa Maria, California.
Spaceflight – A private aerospace company specializing in the launch of secondary payloads ranging from 1 kg up to 300 kg micro-satellites from a variety of space launch vehicles such as Antares, Dnepr, Soyuz, and Falcon 9 as well as from the ISS.
The Spaceship Company – An aerospace joint venture between Virgin Galactic and Scaled Composites. TSC plans to build the world's first fleet of commercial sub-orbital spaceships and carrier aircraft. Current vehicles include White Knight Two and Space Ship Two. Location: Mojave Air and Space Port, Mojave, California. Founded in 2008.
SpaceX – Has developed two launch vehicles, established an impressive launch manifest, and been awarded COTS funding by NASA to demonstrate delivery and return of cargo to the International Space Station. By their own account, SpaceX is on a sound financial footing as they move towards volume commercial launches. Founder: Elon Musk (co-founder, PayPal). Established in 2002.
Spire Global – is an American private company specializing in data gathered from a network of small satellites. It has successfully deployed twelve Earth observation CubeSats into Low Earth orbit. The company signed a contract to provide NOAA with weather data. The company has offices in San Francisco, Glasgow, Singapore, and Boulder.
Telespazio SpA  – A joint venture between Finmeccanica (67%) and Thales (33%). Headquartered in Rome, Italy, Telespazio relies on an international network of space centers and teleports and operates worldwide through many subsidiaries and joint ventures. Its activities range from the design and development of space systems to the management of launch services and in-orbit satellite control from earth observation services, integrated communications, satellite navigation, and localization to scientific programs. Telespazio now covers the whole space market value chain through its four business units: Satellite Systems & Applications, Satellite Operations, Geoinformation, and Networks & Connectivity. Telespazio is also involved in programs for the exploration of the universe including Rosetta and Gaia.
Telespazio Vega UK Ltd – A consulting, technology, and engineering services business headquartered in Luton, UK. The comppany provides ground segment systems for satellite missions and in addition to consulting and engineering support. Telespazio Vega UK develops downstream applications including geo-information (via value adding), user-friendly, platforms, and cost-effective fixed and mobile satellite communications. In January 2011, VEGA Space Ltd, became a part of Telespazio, the Rome-based space systems services company.
Tesat Spacecom GmbH & Co. KG  – Acquired by EADS Astrium GmbH (a subsidiary of Airbus Group SE) in December 2001 and continues as independently functioning organization. Specializes in center of competence for payloads of communication satellites. Product offerings encompass traveling wave tube amplifiers, multiplexers, waveguide switches, and modulators which, along with complete systems, are delivered globally to all leading satellite manufacturers.
Terma A/S  – Operates in the aerospace, defense, and security sectors. Specializes in complex and critical aero-structures for commercial and military aircraft, aircraft survivability equipment, advanced ground-based defense applications, radar systems, critical infrastructure protection for Homeland Security, and Terma Star Tracker for precise control of satellites. A majority of its stock was acquired by the Thomas B. Thrige Foundation in the 1980's.
TNO  – A Dutch public organization that introduced the first solar path. Projects include: flexible & free-form products, space & scientific instrumentation, sustainable chemical industry, semiconductor equipment, networked information, predictive health technologies, food & nutrition prevention, work & health, mobility & logistics, environment & sustainability, buildings & infrastructures, smart cities, and energy. View an annual report.
Ventions, LLC – A research, development, and services company founded to commercialize innovative technologies in the aerospace sector. Currently focused on the development of small-scale propulsion systems, pumps, and launch vehicle components for government and commercial applications under various DARPA and NASA funded projects. Location: San Francisco California. Established in 2004.
Virgin Galactic LLC – Virgin Galactic is working to develop the suborbital tourism industry. The company is currently accepting booking for suborbital flights. Tickets cost $250,000; over 400 individuals have given deposits for future flights. VG plans to launch suborbital science missions and small satellites. Founder: Richard Branson (founder, Virgin Group). Location: Spaceport America, New Mexico.
Vitrociset SpA – Offers services in Command & Control, Intelligence, Surveillance & Reconnaissance, Instrumented Test Range, Modeling & Simulation, Infologistics & Support Equipment, secure Communications & Cybersecurity, Border Control, Critical Infrastructures Protection, Transports Protection, Territory Protection, Ground Facilities & Support Equipment, Exploitation Services, Ground Data Systems, Added Value Applications & Services, Large Experimental Facilities, Air Traffic Management, Airport Solutions, Meteorological Systems, Intelligent Transport Systems, Maritime & Port Solutions, Smart Mobility & Last Mile, Smart Environment, Smart Building & Energy, Smart Security, and Smart Government & Life. Based in Italy.
XCOR Aerospace – Focuses on the research, development, project management, and production of safe, reliable, reusable launch vehicles (RLVs), rocket engines and rocket propulsion systems. Location: Mojave, California. Founders: Jeff Greason, Dan DeLong, Doug Jones, and Aleta Jackson. Established in 1999.
XINWEI TECHNOLOGY GROUP CO LTD – Xinwei is set to be acquired by its CEO, Wang Jing, a Chinese billionaire who has major interests in HKND Group (which manages the Nicaraguan Canal).